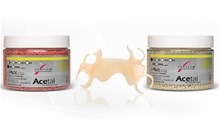 Acetal
Regular price $35.50 Sale
PERFLEX ACETAL the natural choice
Quality new grade of rigid - elastic thermoplastic compound for aesthetic dental appliances and tooth shade clasps by injection molding systems.
NON - ALLERGENIC hard thermoplastic.
PERFLEX ACETAL can be used to create: Frameworks, clasps, space maintainers, Crowns, Bridges, Night guards and other appliances in combination with metal frames or with our line of thermoplastics and conventional acrylics.
It combines flexibility, stability, comfort, durability, high impact resistant and excellent resistance to abrasion.
Low water absorption and high color stability, Biocompatible monomer free, Bacteria and stain resistant.
Easy to polish and easy to clean.
PERFLEX ACETAL is sold in a variety of shades: A2, A3, A3.5 and pink.
Other colors by request based on vita shades chart.
Acetal is sold by bulk of 200gr. And 1kg.
Empty aluminum cartridges are sold separately.