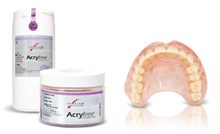 AcryFree 200 Gram, 500 Gram or 1 KG
Regular price $240.00 Sale
PERFLEX ACRY FREE
FREE MONOMER ACRYLIC RESIN
NON-ALLERGENIC ACRYLIC
PERFLEX ACRY FREE IS AN EXCLUSIVE ELASTIC ACRYLIC THERMOPLASTIC HIGH IMPACT RESISTANCE for full and partial dentures by injection molding system.
Perflex Acry Free is 10 times more resistant against breakage than conventional acrylics, lightweight translucent and natural.
Designed to high level of Aesthetic results, hypoallergenic and biocompatible, providing life-like dental appliances that virtually disappear inside the mouth, since Acry Free is injected into the flask, the final result is a very precise restoration, more retentive and more comfortable for the patient.
Perflex Acry Free can be produced much thinner than conventional acrylic restorations due to the strength of the new composition of the material.
Acry Free can be repaired and relined with all acrylics hard/soft, cold/hot or by the same material itself by injection molding systems.
The excellent polish and the unique luster of the denture surface, allow to prevent calculus and bacteria accumulation.
Moreover, patients who are sensitive to monomer composition used in conventional acrylic dentures can now choose ACRY FREE for their dentures, also suitable for implant retained over-dentures, Acry free can be used in combination with porcelain artificial teeth for a complete non-allergenic denture or appliance.
No more bulky heavy dentures! Acry Free is the new aesthetic and perfect solution for total and partial dentures of today's dentistry.
NEW EXTRA LARGE CARTRIDES FOR BIG SIZE FULL DENTURES CASES.
Perflex Acry Free is sold in a variety of color shades: Standard Pink, Light Pink, Purple Pink.
Package: Box of 6 cartridges pre-dried, sealed and protected with plastic cap against moisture.
Sizes 25 diam and 28 diam:Medium, Large and EXTRA LARGE
Patient care instructions is provided with the denture for the patients.
Perflex Acry Free is sold in bulks of 200gr. and 1kg.
Empty aluminum cartridges are sold separately.