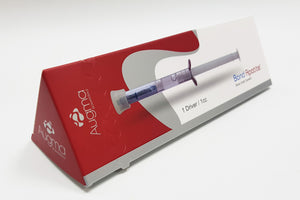 Bond Apatite® composite graft bone graft 2019 Edison award winner!!
Regular price $135.00 Sale
Bond Apatite® is a composite graft, made of Biphasic Calcium Sulfate mixed with HA granules in a controlled particle size distribution, intended to fill or augment a large diversity of osseous defects.
Minimal invasive surgical protocols
 Easier and faster application – All-in-One Syringe
Transforms into the patient's own bone, Enhance the healing with higher predictability, No membrane, Reduce chair time, Great valuE
Augma's bone cement enables us to perform augmentation procedures in a completely different approach, consequently, working according to the recommended protocols is extremely important.  therefore, we offer tutorials with every purchase to share protocols, tips, and guidelines. 
In this video on the right window you can see how fast it takes to work with Bond Apatite. 2 minutes!!!