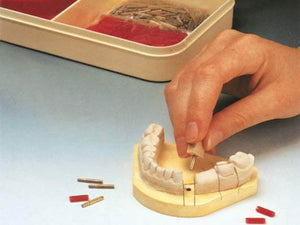 Crosspin Intro Kit
Regular price $96.00 Sale
Crosspin® developped by Harald Nordin SA does improve precision and facilitate work with removable model sections.
Unique: allows easy removal of model section to be worked upon and makes repositioning with absolute precision possible. Advantage: simplifies work for the dental Technician and offers absolute precision. Crosspin® has a double profile; a cylindrical part which is introduced in the "tooth part" of the model and a cross-shaped part which with its sleeve is introduced in the "base part" of the model. The sleeve will stay in the base part and the desired section can thus be removed and replaced with absolute precision.
With Crosspin® you will save time, gain precision and increase the quality of your final work: – The removable section can always, after multiple removals, be returned to its initial position with absolute precision.
– You only need one pin per section.
– The depth of the model-former (to cast the base) is adapted to the length of the pins so you will have direct access to the bottom of the pins from the bottom of the base which makes extraction much easier.
– The base is already shaped and needs no trimming.
– You will also use much less plaster and have a thinner model which is easier to mount in the articulator.
– Finally, a better job made easier with more precision and less cost. Swiss Quality signed Harald Nordin SA.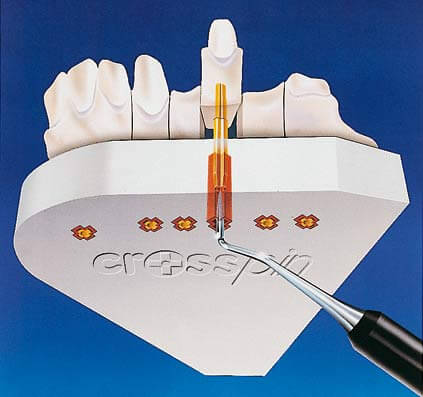 Crosspin XL Crosspin® is also available in an extra long version XL total lenght 21 mm which corresponds in length with most ordinary Dowel-pins. These XL Crosspin® are intended to be used with other model former systems such as Vertex® and others. The longer XL Crosspin® is also a little bit more stable than the ordinary Crosspin®.
How to use this product