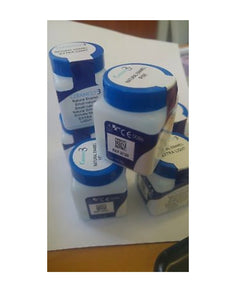 Dental One Pack Of Ceramco 3 Natural Enamel 1oz (28.4gr) By Dentsply
Regular price $60.00 $48.00 Sale
CERAMCO 3 
Ceramco 3 is a complete porcelain fused – to – metal system that has been designed according to the unsurpassed traditions of Ceramco 3 ceramic technology, which combines consistent product reliability with excellent natural aesthectics.
Features and Benefits:
Problem – free application to all high-fusing alloys with CTE values between 13.9 and 15.1 m/mk
Ease of handing
High chrome and vitality for excellent aesthetics
Neutral powder (to reduce the chrome)
White transparent powder for individual transparent for the incisal area small and effiicint full started assortment.
Margin porcelains with high stability in layering
Paste opaques with a smooth and creamy consistency
Soft wear enamels
Shade guides for easy shade matching
Harmonized shade matching of the V-shades.
CONTENT : 28.4gm
Brand : Dentsply