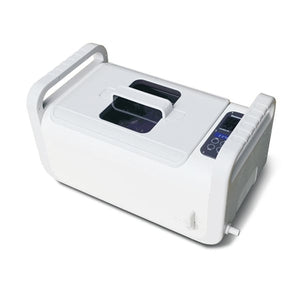 Dentsonic Ultrasonic Cleaner 2 Gal. with Heater, Timer & Plastic Basket. Features: Powerful 35 KHz
Regular price $882.94 Sale
Product Details
Description:
Ultrasonic Cleaner 2 Gal. with Heater, Timer & Plastic Basket. Features: Powerful 35 KHz of cavitation for thorough, quieter cleaning. Stainless steel tank. Durable plastic housing is scratch resistant and easy to clean. Digital timer for quick and easy process. Sweep technology ensures exceptional cleaning efficiency. Tank size: 2 Gal. Internal tank dimensions: 13"x9.4"x4.1". Includes basket and lid. 1 Year Warranty.
Construction:
Stainless steel tank with heater
Dimensions:
21.3" x 13.3" x 10.9"
Sterilization Indicator:
Digital timer