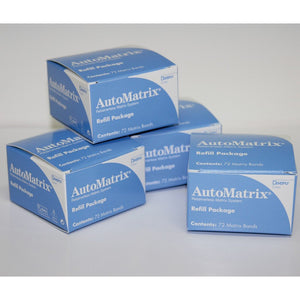 Dentsply 663001 AutoMatrix Retainerless Matrix System, Medium Thin Refill (Pack of 72)
Regular price $120.00 $110.00 Sale
The Auto Matrix Retainer less Matrix System offers a marginal seal and a form for placing restorative material in situations where a circumferential matrix is required without the use of a large retainer. Its design makes it perfect for lingual or buccal extensions as well as larger preparations.
By preventing the band from being overly stretched, the Palo Dent Plus ring aids in the creation of proper embrasures.
The Palo dent plus ring tines firmly grasp the band, preventing it from rising away from the gingival margin and cutting into tissue.
With less flash, this combination offers a better seal at the line angles than is typically possible with a circumferential matrix system.
By separating the teeth, the Palo dent plus ring avoids the need for forced wedging and enables use of the Palo dent plus wedge, which is intended to reduce the impingement of soft tissue.