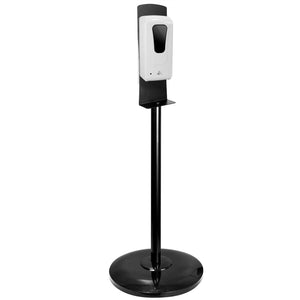 Hand Sanitizer Dispenser Floor Stand Station, Soap Dispenser with Stand, Touchless Automatic Hand Sanitizer Dispenser with Floor Stand for Shop Office School Public Area
Regular price $190.00 $45.00 Sale
Automatic Sensor Soap Dispenser: Put wash-free soap liquid into the soap dispenser. With the smart sensing and touchless design, the sanitizer dispenser provides quick sanitizer without touching the machine, keeping you away from any harmful substance and prevent cross-infection.

High Quality and Durable: The column and mounting plate are made of iron, the round base is made of stone powder and plastic cap, placed on the ground is more stable and will not shake., This portable heavy duty stand is suitable for high traffic areas, such as hotel, lobbies, restaurants, schools, universities, shopping mall and hospitals, which is essential for business re-open.

Large Capacity: 1000 ml (33 oz) with controllable discharge frequency (Sanitizer Solution NOT INCLUDED). This Automatic Sensor Sanitizer Dispenser works with any liquid sanitizer.

Battery or Adapter Use: This hand sanitizer dispenser with floor stand not only can work with 4 Pcs Batteries,(1.5V*4 Pcs Size C, Not included), but also can work with adapter only(Adapter included).

Easy to Assemble:This portable hand sanitizer dispenser floor stand is easy to assemble, no tools required.