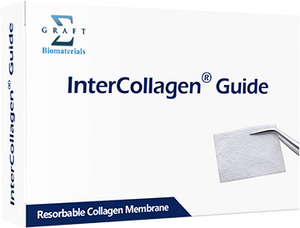 InterCollagen Guide
Regular price $108.90 Sale
Indications for Use
InterCollagen® Guide can be used in guided bone regeneration (GBR) and guided tissue regeneration (GTR) procedures as a biodegradable barrier for:
Periodontal bone defects (1-3 wall defects) and furcation defects (class I and II)
After apicectomy, cystectomy, resection of retained teeth, and resection of other bone lesions
Sinus floor augmentation and support of the Schneiderian membrane
Maxillary ridge augmentation
Maxillary ridge reconstruction for prosthetic treatment
Extraction sockets after tooth extractions
Immediate or delayed augmentation around implants in extraction sockets
Surgical bone defects and bone wall defects
Dehiscence and fenestration defects
Studies
InterCollagen® is a resorbable cross-linked membrane that promotes rapid healing. It exhibits excellent drapability, long-term stability and is easily suturable. InterCollagen® Guide is validated and documented in case of studies through clinicians involving procedures such as horizontal/vertical augmentation, sinus augmentation, and sinus elevation.