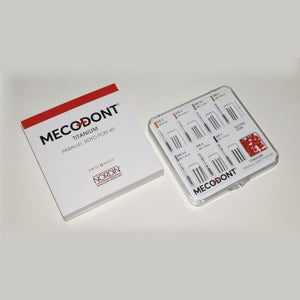 Mecodont Titanium Parallel Sided Post Intro-Kit
Regular price $154.00 Sale
* Passive parallel-sided post with flat head for direct post/core build-ups in one appointment;
* Ideal for multi-rooted post/core build ups; and
* Efficient and smooth cutting burs.
Product Availability:
Mecodont Titanium Post Intro Kit (Part TPIK)
Color-Coded Parellel Sided & Vented. 7 drills (1 of each size)
21 posts (3 of each size); and
1 vial of endo stops.
Titanium Parallel Sided Vented Post, Size #3 Qty 10 (Part TP03)
Titanium Parallel Sided Vented Post, Size #4 Qty 10 (Part TP04)
Titanium Parallel Sided Vented Post, Size #4.5 Qty 10 (Part TP45)
Titanium Parallel Sided Vented Post, Size #5 Qty 10 (Part TP05)
Titanium Parallel Sided Vented Post, Size #5.5 Qty 10 (Part TP55)
Titanium Parallel Sided Vented Post, Size #6 Qty 10 (Part TP06)
Titanium Parallel Sided Vented Post, Size #7 Qty 10 (Part TP07)
Stainless Steel Parallel Sided Drill, Size #3 Qty 2 (Part TD03)
Stainless Steel Parallel Sided Drill, Size #4 Qty 2 (Part TD04)
Stainless Steel Parallel Sided Drill, Size #4.5 Qty 2 (Part TD45)
Stainless Steel Parallel Sided Drill, Size #5 Qty 2 (Part TD05)
Stainless Steel Parallel Sided Drill, Size #5.5 Qty 2 (Part TD55)
Stainless Steel Parallel Sided Drill, Size #6 Qty 2 (Part TD06)
Stainless Steel Parallel Sided Drill, Size #7 Qty 2 (Part TD07)