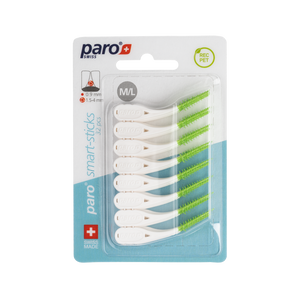 Paro® Smart-Sticks M/L, Light Green, ø 1.5/3.8 mm, 32 pcs
Paro® smart-sticks XS/S, green
The paro® smart-sticks XS/S, green interdental brush is the perfect solution for those who want gentle and effective cleaning of the interdental space. With its soft rubber lamellas and angled tip, this metal-free interdental brush provides comprehensive coverage for a thorough cleaning.
Gentle and intuitive cleaning
Easy access to the molars
Stable and elastic to use
Soft rubber lamellas and rounded tip
Comprehensive and effective cleaning
Stimulating massage effect for healthy gum
The propeller arrangement of the soft rubber lamellas ensures complete coverage, while the XS/S size makes it easy to access even the tightest spaces. Plus, the brush provides a stimulating massage effect for healthy gums, creating a pleasant and refreshing sensation.
With paro® smart-sticks XS/S, green, you can enjoy gentle, yet thorough cleaning of your interdental space, giving you a healthy and radiant smile.