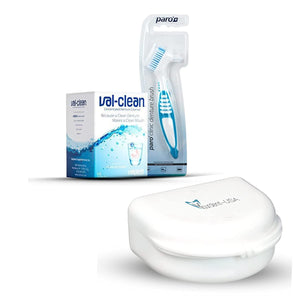 Paro Clinic Denture Brush, Val Clean Denture Cleaner 12 Packet for 1 Year and Dental Retainer Case, Denture Night Guard, Perfect Combo
Regular price $49.99 $39.99 Sale
PERPECT COMBO: This package contains Paro clinic denture brush, Val-clean denture cleanser, and Dental retainer case, which will help you clean, protect and maintain high hygiene of your dentures, and retainers.
ODORLESS BOX TRAY: The dental retainer case is designed to protect and provide high hygiene for your dentures. It has vent holes to avoid moisture, which helps prevent it from becoming smelly.
EFFECTIVELY CLEAN DENTURE BRUSH: This brush is deigned for Effective and careful cleaning of dentures. The extra head with stiff tapered filaments penetrates between teeth. The combination of hard and soft bristles in the main brush facilitate optimal cleaning efficiency.
1 YEAR SUPPLY: The box of Val-Clean denture cleaning contains twelve sachets. In each sachet, it can last for four weeks depending on usage.
SAVE MONEY: Having these three products in a package will not just help you clean your dentures and other dental appliances, but this package will also help you save money.