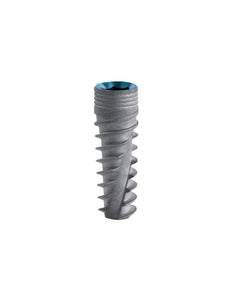 Spiral Implant Blue Line 4.2MM
Regular price $90.00 $75.00 Sale
DSI Blue Line has a slightly aggressive design with larger and deeper treads, increased external surface and the redirecting ability is recommended for immediate placement and cases with softer bone types.
All DSI Implants implants are made of titanium alloy Ti-6Al-4V ELI, in accordance with ASTM-F136-02. Titanium has an outstanding capability to integrate almost completely with the bone. This unique characteristic coupled with its metallurgical advantages of strength & endurance makes titanium the ideal implant material. In addition, it can be precisely machined to that implant meets the requirements of modern state-of-the-art prosthetics. All of our implants pass the SLA  surface treatment.
DSI Implants multi-design provides an excellent solution for immediate placement and immediate loading. Their new slightly aggressive geometric shape includes dual threads, two spiral channels stemming from the apex, micro rings on the implant neck and a changing thread thickness along the implant. As result, soft bone is collected and compressed during the implantation creating perfectly uniform high-quality platform ready for immediate loading. One abutment platform fits all implant diameters. Packaging has been designed for quick identification and easy opening.
At DSI, our objective is to provide safe and high precision dental products and services to the clients.
No Aluminum contaminants - More successful and accelerated process of osseointegration than ever
Survival rates - High and consistent survival rates (over 95% after five-year follow-up).
Bone Preservation - Average bone loss of <1 mm after five years (Based on the implant loading time).
No Peri-Implantitis - Very low prevalence of peri-implantitis over the 5-year follow-up period.
Blue-Line-Implant Blue Line Spiral Implants
Aggressive, wide thread pitch, sharp and deep.
Bone condensing property provides excellent primary stability.
Special shape increases the implant's external surface, accelerating the healing process.
Ideally suited for multi-unit immediate load applications and insertion into fresh extraction sites.
Platform switch design.
Recommended for soft and mildly dense bones.