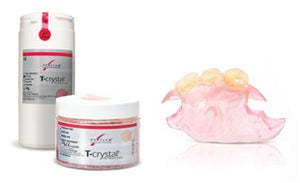 T-Crystal 200 Gram, 500 Gram or 1 KG
Regular price $300.00 Sale
The revolutionary thermoplastic for all kind of removable dentures, Is repairable and relineable with any conventional acrylic: cold/hot cure and is suitable to use for partial dentures, full dentures, mini dentures, while is thin and light weight, is suitable for over dentures on implants, without the need of any metal frame work to add stiffness to the appliance, since the material is rigid with a moderate degree of flexibility, allowing to use all those advantages to create a master piece dental appliance. A lot of place to design the desired restoration with the maximum possibilities to create it, a bulky metal frame is not needed, the appliance can be produced very fast since this step of casting metal is avoided.
T crystal allows to build the clasps on the neck, while they will flex into the undercut of the tooth, not involving gums to achieve retention without damaging the gingival area.
T-crystal is easy to polish, like acrylic, smooth and very shine appliances are obtained and adaptation by the patient is very fast and successful. "dentists and dental technicians friendly" to polish and adjust.
This new material has all the advantages you have been searching for a flexible thermoplastic, the satisfaction of your patients is the first thing we have to think about.
While you will work with this incredible new material you will create not only a beautiful and comfortable appliance, you are creating the desired smile design for the countless of smiles of your patients.