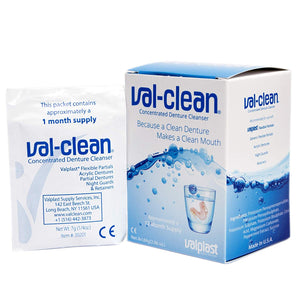 Val-Clean Concentrated Denture Cleaner 1 Year supply!!! fast shipping
Regular price $55.00 $28.55 Sale
Val-Clean Denture Cleaner
Val-Clean Concentrated Denture Cleaner
Val-Clean Concentrated Denture Cleaner is the ideal solution for maintaining the cleanliness of Valplast and other removable dental appliances. Our product is designed to provide you with the best results in denture care.
Key Features:
Effective Cleaning:

Our concentrated formula effectively removes stains, bacteria, and odors from your dentures, leaving them fresh and clean.

Safe to Use:

Val-Clean is safe for all types of removable dental appliances, including Valplast, acrylic, and metal dentures.

Daily Use:

Use it daily to maintain the hygiene and appearance of your dental appliances.

Economical:

One box of Val-Clean provides you with a year's worth of cleaner, making it a cost-effective choice for your denture care needs.
Experience the convenience and effectiveness of Val-Clean Concentrated Denture Cleaner and keep your smile at its best. Order yours today!