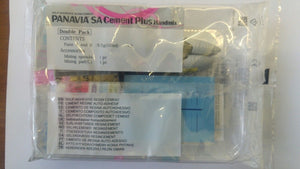 Dental PANAVIA Double Pack SA Cement Plus Handmix Univarsal A2 HandMix Resin Cem
Regular price $210.00 Sale
Dental Double Pack PANAVIA SA Cement Plus Kuraray Self-Adhasive Cement Universal A2  HandMix
PANAVIA SA Cement Plus Handmix Type
A2
9.3g (5.0ml) * 2
REF #3355-EU
Made In Japan
PANAVIA SA CEMENT is a self-adhesive; self-etch; fluoride-releasing dual-cure resin cement available in both automix and handmix versions.
PANAVIA SA CEMENT has been developed for cementing indirect restorations made of metal, all-ceramic (zirconia), hybrid ceramics and composites.
PANAVIA SA CEMENT has easy clean-up without causing gingival trauma, thereby making it ideal for implant cementation.
Exceptional handling, especially with excess cement removal
Very low technique sensitivity, with consistent bond strength even to overdry and wet dentin/enamel
High bond strength, for any restorations including zirconia & alumina
Good marginal sealing
Low solubility and low film thickness, for optimal Cementation
Simple to use, self-adhesive, no primers, silane or bonding agents needed
Fluoride releasing
 Cementation of crowns, bridges, inlays and onlays made of conventional porcelain, ceramic, hybrid ceramics, composite resin or metal Cementation of metal cores, resin cores, metal posts or glass-fiber posts.
Long Expiration Date