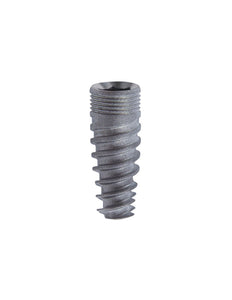 Spiral Premium Implant 3.75MM
Regular price $99.00 Sale
high-quality implant systems with a diameter between 3.5mm and 6.0mm and length between 6.0mm to 16mm 
Implants are made of titanium alloy Ti-6Al-4V ELI, in accordance with ASTM-F136-02. Titanium has an outstanding capability to integrate almost completely with the bone. This unique characteristic coupled with its metallurgical advantages of strength & endurance makes titanium the ideal implant material. In addition, it can be precisely machined to that implant meets the requirements of modern state-of-the-art prosthetics. All of our implants pass the SLA  surface treatment.
No aluminum contaminants - More successful and accelerated process of osseointegration than ever
Survival rates - High and consistent survival rates (over 95% after five-year follow-up).
Bone Preservation - Average bone loss of <1 mm after five years (Based on the implant loading time).
No Peri-Implantitis - Very low prevalence of peri-implantitis over the 5-year follow-up period.
Premium-Line-2.42 Premium Line Spiral Implant
Platform – switching, root-form design.
Ideally suited for both immediate loading and traditional 2-stage protocols.
Internal hex connection accepts the full range of the DSI Prosthetic component.
Rounded apex with self-tapping threads for optimal surgical flexibility.
Micro rings on the implants neck optimize the shear strengths in the crest zone.
Platform switching preserves the crestal bone height and soft tissue levels, increasing the quality of outcomes in the treatments.